Planning for Remote Learning
The Office of Online Learning and the Educational Technology Department are here to support you in using Canvas as a tool to support your learning remotely. Be sure to scroll down to learn more about Canvas and the mobile apps available to you for using Canvas on a smartphone or tablet.
Internet Access
While you shelter in place, you should have internet access to participate in your Remote Learning classes. Learn about Low Cost and Free Internet Access available to students during the COVID-19 pandemic.
Free Software
CCSF students can download free software like Microsoft Office. To learn how, view the Free Software page on the CCSF website.
First Time Using RAM ID?
First Time Logging into Canvas and the myCCSF Resources Portal?
CCSF Registration Guides
CCSF IT Help Desk
The CCSF Help Desk can give you help with logging into the MyCCSF Login Portal (RAM ID), email, and general computer services at CCSF.
Phone: (415) 239-3711 OR Toll Free (877) 379-2491
Email: helpdesk@ccsf.edu
---
For help with Canvas (CCSF's learning management system), please refer to the information below.
First Time Using Canvas?
If this is the first time you have used the Canvas learning management system, you may have some questions about how things work.
Logging In
The easiest way to log into Canvas is to visit the main city college website at ccsf.edu. On the far left of the top navigation menu, you will see a button that says CANVAS.

Click that button, log in through the MyCCSF Login Portal (RAM ID), and then you will find yourself on your Canvas Dashboard. The Dashboard will list your current classes at CCSF.
Getting Help
For Canvas Help, click the Help button (?) in the lower-left corner of a Canvas page to find resources like the Canvas Student Guide, or call the Canvas Support Hotline anytime: 844-592-2198. Another option is to live chat with Canvas support.

Due to unusually long wait times for Canvas support, we now have a CCSF Virtual Counter which offers Canvas Help to students.
Canvas – Virtual Counter for Students
Monday – Thursday
10:00 a.m. to 12:30 p.m.

Or Call in from a Phone:
Meeting ID: 980 1371 9861
+1 669 900 6833 (US Toll)
+1 346 248 7799 (US Toll)
+1 646 876 9923 (US Toll)
If you want a quick tour of Canvas, check out this video to learn how to navigate your courses!
Passport to Canvas

If you want to travel deeper into the world of Canvas, enroll in Passport to Canvas. Pack your bags for a thorough journey which will help you learn about using Canvas as a student. At each passport stop, you will collect a badge (passport stamp). You can choose to begin your journey at the very first passport office, or you may choose to pick a different spot to begin your exploration!
Mobile Device Support for Canvas
The Canvas App for Students is the mobile version of Canvas that helps you stay current with your courses anywhere you go. Please note: the apps are more limited in functionality than the desktop version of Canvas. We recommend submitting work in the desktop version of Canvas.
Do you plan to use the iPhone/iPad CANVAS mobile app? Read the Canvas by Instructure iOS guide. Check if you have the most up to date version of the Canvas app.
Do you plan to use the Android CANVAS mobile app? Read the Canvas by Instructure Android guide. Check if you have the most up to date version of the Canvas app.
Add an Email or Text for Better Communication in Canvas
When we create your account in Canvas, we make your CCSF gmail account the default email address for communication.
In Canvas you have the option to add another email address and a text number for notifications from Canvas. For better communication, we recommend adding an email that you are likely to check on a regular basis. After you have added that email address to your account, you can make it the default email address for notifications in Canvas.
If you would prefer to receive notifications by text (SMS), you can add a phone number for receiving texts in Canvas as well.
If you have added multiple methods of contact in Canvas, you might want to adjust your notifications in Canvas for a specific course so that Canvas will use only one or multiple methods of contact for sending you notifications.
Using Zoom in Canvas
Your instructor may be using Zoom in Canvas for meetings/office hours. They may also be sending you Zoom invitations through email. Learn more about attending a Zoom session in Canvas.
Before you join either type of Zoom session, we encourage you to install Zoom yourself before the session. To do that, download the latest version of Zoom.
Using Pronto in Canvas

Your instructor may be using Pronto in Canvas for meetings/office hours. Open Pronto by clicking on the Pronto button in your Global Navigation. It's located just under the Help button.
The first time you open Pronto, you will need to complete a few steps. Click a Continue button to agree to terms of service, read about installing the mobile app if you want to use Pronto on your iPhone or Android device. You don't need to install it right away, but you will receive an email with details for downloading the mobile app. If you open that email on your mobile device, you will have easy links to downloads as well as the username you need to use when logging in on your mobile device. You won't be using your student ID number and instead, you will use your default email in Canvas. You will be using your RAM ID password.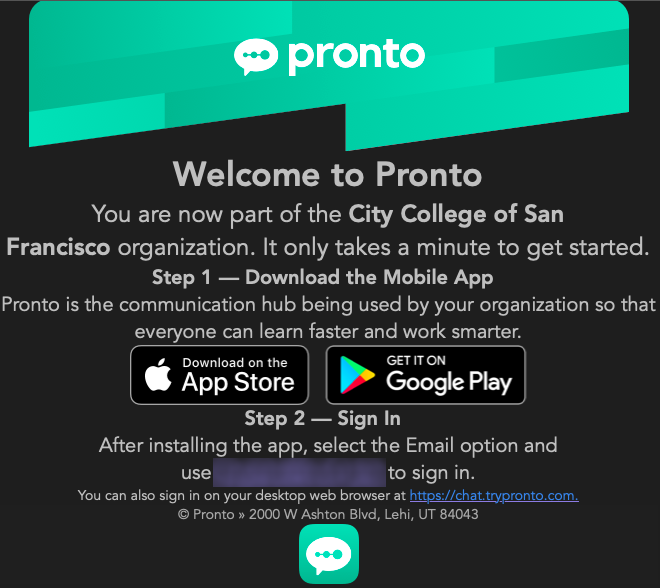 Visit Pronto's support site for more guides on using Pronto in Canvas.
FAQs for Remote Learning